Never miss a thing by turning on push notifications on your mobile device.
In this article, we'll cover:
How push notifications can help you
We offer push notifications on money transfers, changes to your profile, rate alerts, marketing announcements, and offers.
These updates can tell you when the best time to send money is, how your transfers are progressing and can warn you of any unexpected changes to your profile.
All these messages will be sent to your email as standard. We also offer our marketing and offer announcements via push notifications to help you get the most out of Xe.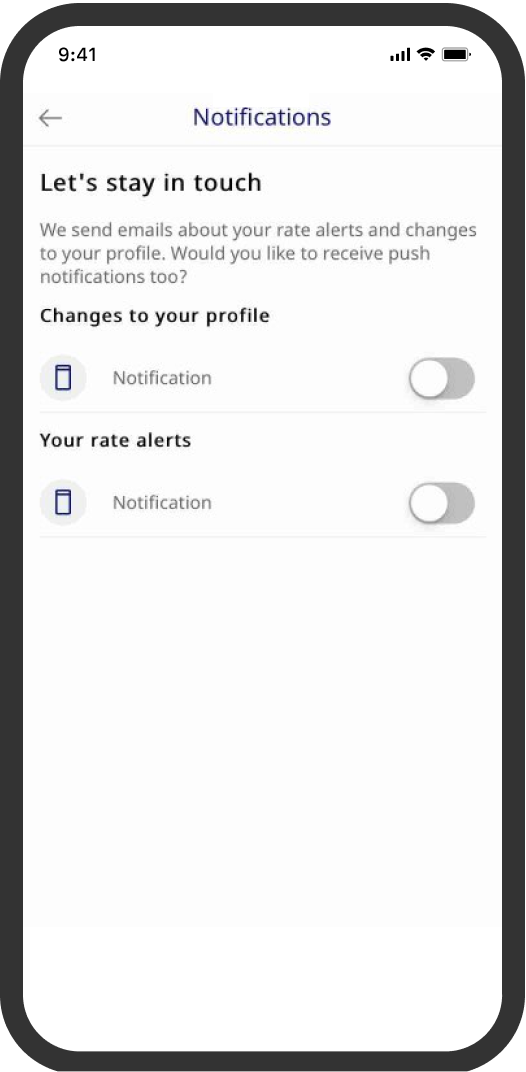 How to set up push notifications
Want to start receiving notifications? No problem, just follow these steps:
In the app, go to Profile and then Settings.
Press Notifications and you'll see a list of options to choose from.
Move the slider on or off depending on your preferences.
Make your selection and you'll be asked to confirm you want to receive notifications.
Please note: You can always change your mind and turn off any notifications later on, or turn on any additional ones you need.
Email marketing preferences
While you can't receive push notifications via our web experience, you can sign up for email marketing communications. To turn these on or off, follow the below steps:
Head to Xe.com and log in to your account.
Select My Account from the top toolbar.
Choose Communications Options from the drop-down list.
Tick the box if you wish to receive marketing communications and hit Save.