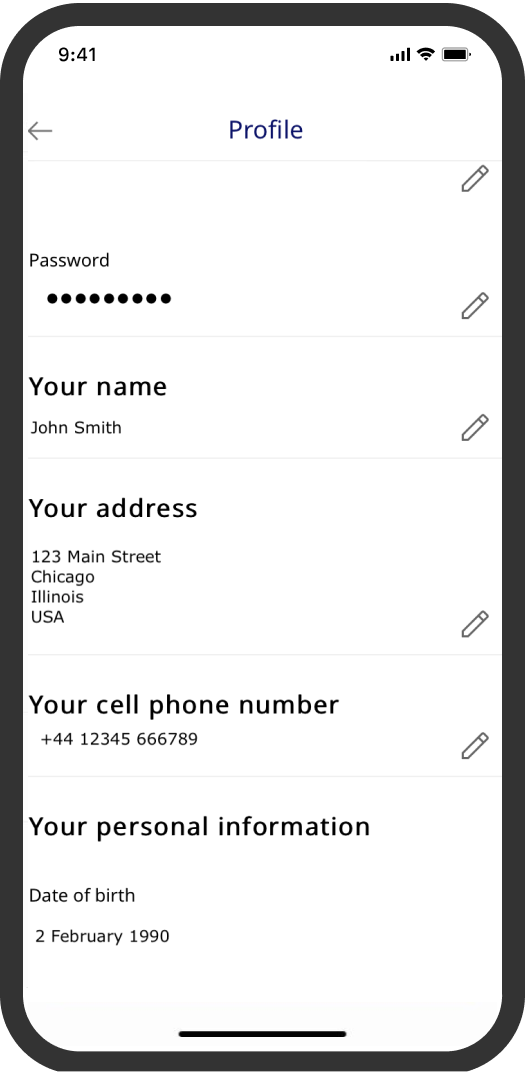 Keeping your account safe and secure is important to us. Passwords are just one way we protect you and your money when using Xe.
We understand that you may wish to change your password from time to time. Perhaps you're worried your password has been compromised, or you're simply finding it hard to remember your current password.
Xe passwords must contain:
At least 8 characters
At least 1 lowercase letter
At least 1 capital letter
At least 1 non-alphabetical character
Follow the instructions below to change your password in the app or on our website.
How to change your password in the app

Click the Profile icon and then select View Profile to access your details.
You'll see an option for Password and clicking the Pencil Icon will present you with the password change screen.
Enter your current password first and then choose your new password, following the requirements, before hitting to save to complete the process.
How to change your password on the website

Under the My Account tab you'll find our Login Details section.
Head to the Login Details page and select the option to Edit your password.
You'll be asked to provide your current password and then enter your new one, which must meet the requirements set out for security reasons.
Hit Update Password to complete the process.
Problems logging in? We'll get you up and running in no time. Read our guide to log in issues here to find out more.