Just as you might have to provide ID to open a bank account, as a regulated financial service we have a legal obligation to make sure you are who you say you are.
One way we do this is through a process called verification. It usually only takes a few minutes.
In this article you can understand:
What do I need to do complete verification? 
In order to protect Xe and our customers from financial crime, we might ask you to provide proof of your identity by submitting an identity document (ID) and a selfie.
Occasionally, we might need some additional documents, such as proof of address or source of funds.
To understand what documents we need from you, we consider:
How much money you're sending
The country you're sending money to
The country you're sending money from


When will I be asked to complete verification?
If we need more information from you, we'll ask you to do this as you go through the process of sending money. 
We use a third-party verification provider called Onfido.
In most cases, your identity is checked in real time which means you'll be able to send money straight away.
Taking a selfie as part of our verification process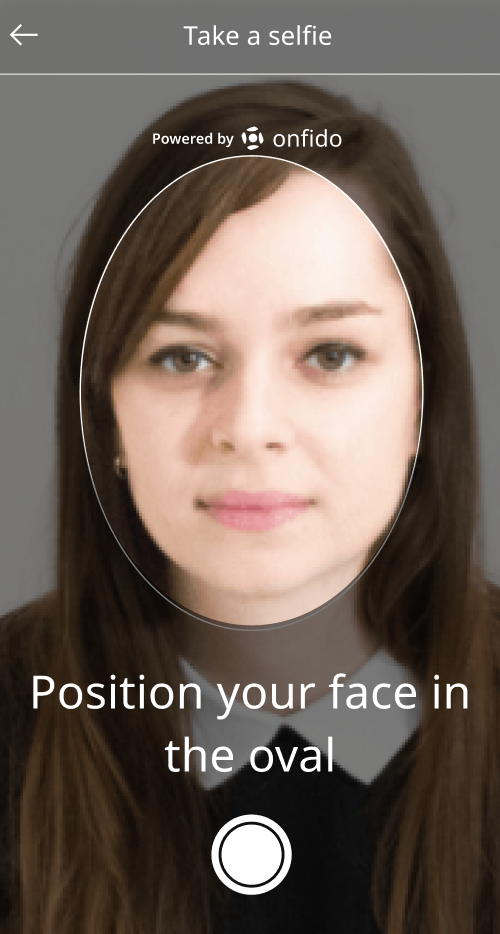 We might ask you to take a selfie (a photo of your face) after you've submitted your identity documents.
By comparing the picture in your document with your selfie, we can check you're a real person. 
If you start the process on a computer, you'll be able to send yourself a secure link so that you can continue on your phone and take a selfie.
When you take your picture:
Keep a straight face
Take your glasses off
Make sure your face is inside the oval frame
Take your selfie
When you're happy the picture's just right, submit your selfie. 
Tips for submitting acceptable documents
We'll tell you what documents we need from you when you go through the verification process. 
When you send a photo of a document, please make sure that:
The document is in date 
You're sending a photo of the real document. We can't accept scans, photocopies or photos of computer screens which show the document. 
The photo is in colour 
The photo is clear, not blurry or grainy
The photo shows the full page and no information is covered (keep your fingers out of the way!)
If your document's double-sided, please send pictures of both sides
The document must be in English. Unfortunately, we can't support any other languages. 


Verification requirements by country
Australia & New Zealand

You could be prompted to provide us with a valid proof of identity or address document.

Copies of documents must be in colour. Address documents must be dated within the last 12 months and identity documents must have a valid expiry date.

The table below explains which documents are acceptable for each submission:

 

Document

Proof of identity

Proof of address

Passport

(photo and signature pages)

Australia or New Zealand's driver's license

National identity card

(if photo is attached)

Utility bill
Letter from a government agency
Council rates notice or valuation
Statement from any bank, building society or credit union
Credit card statement
Mobile phone bill
Canada

You could be prompted to provide us with a valid proof of identity or address document.

Copies of documents must be in colour. Address documents must be dated as instructed and identity documents must have a valid expiry date.

The table below explains which documents are acceptable for each submission:

 

| | | |
| --- | --- | --- |
| Document | Proof of identity | Valid address document? |
| Canadian driver's license | | |
| Passport (photo and signature pages) | | |
| National identity card (if photo is attached) | | |
| Any statement issued by a Canadian government body (federal, provincial, territorial or municipal) | | |
| CRA Notice of Assessment | | |
| GST refund letter | | |
| Utility bill (must be dated in the last 3 months) | | |
| T4 statement | | |
| Investment account statements (RRSP, GIC, etc.) | | |
| Birth certificate | | |
| Canada Pension Plan statement of contributions | | |
| Marriage certificate | | |
| Divorce document | | |
| Credit card statement | | |
| Citizenship certificate | | |
European Union

You could be prompted to provide us with a valid proof of identity or address document.

Copies of documents must be in colour. Address documents must be dated in the last 3 months and identity documents must have a valid expiry date.

The table below explains which documents are acceptable for each submission:

 

| | | |
| --- | --- | --- |
| Document | Proof of identity | Proof of address |
| Passport (photo and signature pages) | | |
| Photo driving license | | |
| National identity card (if photo is attached) | | |
| Utility bill | | |
| Bank statement | | |
| Local or national tax authorities letter | | |
| A solicitor's letter confirming completion of recent house purchase | | |
| Provisional driving licence | | |
| Credit card statement | | |
United Kingdom

You could be prompted to provide us with a valid proof of identity or address document.

Copies of documents must be in colour. Address documents must be dated in the last 3 months unless otherwise stated, and identity documents must have a valid expiry date.

The table below explains which documents are acceptable for each submission:

 

| | | |
| --- | --- | --- |
| Document | Proof of identity | Proof of address |
| Passport (photo and signature pages) | | |
| Photo driving license | | |
| National identity card (if photo is attached) | | |
| Utility bill | | |
| Bank statement | | |
| Council tax bill (for the current tax year) | | |
| Income tax self-assessment letters | | |
| Local or national tax authorities letter | | |
| Electoral register entry | | |
| Provisional driving licence | | |
| Credit card statement | | |
United States of America



You could be prompted to provide us with a valid proof of identity or address document.

Copies of documents must be in colour. Address documents must be dated in the last 3 months and identity documents must have a valid expiry date.

The table below explains which documents are acceptable for each submission:

 

| | | |
| --- | --- | --- |
| Document | Proof of identity | Proof of address |
| Passport (photo and signature pages) | | |
| driver's license | | |
| State identification card | | |
| Utility bill | | |
| Current lease agreement | | |
| Bank statement of a checking or savings account | | |
| Any statement issued by a US government body (federal or state | | |
| Insurance document | | |
| Credit card statement | | |
| Old lease agreement | | |