The fee you'll pay for your money transfer will vary depending on how you chose to pay, the currency you're sending and the country you're sending money to.
You'll see the exact fee before you confirm your money transfer in the Xe app or online.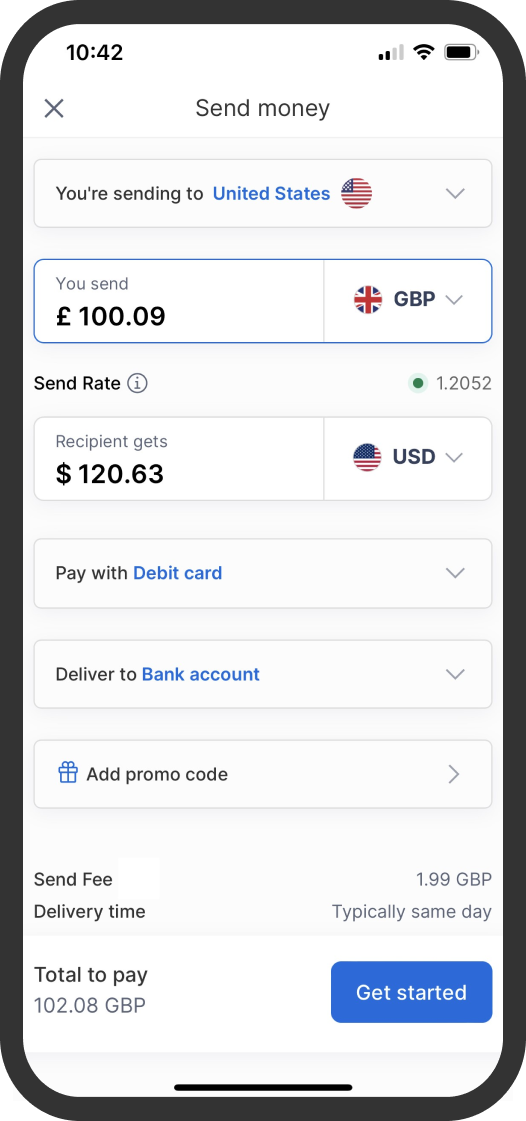 Illustration only.

Send fees
The send fee is a small charge which we add to some transfers. 
We're always transparent about the fee you'll pay. You'll see the send fee when you start a money transfer, and again before you confirm you want to proceed.
In addition to the send fee, Xe also makes money when converting your money. Your send rate will always be displayed clearly and prominently during your transfer. Because we use live rates, your send rate might change before you confirm your transfer, but we'll always let you know if it does. Learn more about why send rates change.  


Payment method fees
When using a credit card, your card provider may also charge you a cash advance fee.
If your transfer's urgent, we'd recommend paying by card. When you pay by bank or wire transfer you won't pay a fee, but it might take up to 4 business days for your money to reach your recipient.


Third-party fees
We always transfer the full amount you send us. Sometimes, your recipient's bank, or an intermediary bank, take a fee which is deducted from the amount your recipient receives.
This is not a fee that Xe benefits from. We don't know when a third party will deduct a fee, so we can't warn you in advance of this happening. In some cases, these fees are driven by local laws and regulations in the country you're sending money to.
Did less money arrive than expected? Learn more about third-party fees.