Read our guide on everything you need to know about sending money to South Africa.
Quick reference
Our partnership with Sikhona Money Transfers
Need a fast way to send South African Rand (ZAR) to South Africa? Our partnership with Sikhona Money Transfers means you can send up to R25,000 daily (to a maximum of R25,000 a month).
Transfers sent via Sikhona require your recipient to complete a one-time registration to benefit from fee-free transfers that typically arrive in minutes.
Don't worry if you need to send more than Sikhona allows. Transfers over R25,000 will be sent safely and securely using our standard Xe routes.
Why are you partnering with Sikhona?
We want to help you ensure that when you send money to South Africa, you'll get a great deal and you know exactly how much you'll receive on the other end. You'll get:
Fast transfer times (arriving within minutes)

Absolutely no third-party fees
By partnering with Sikhona, we eliminate the risk of any charges being added by other banks when sending an eligible transfer via this route.
How much can I send?
You can still send the same amount of money you always have with Xe, just with the added bonus that transfers below R25,000 per day (to supported accounts) can be sent via our new partnership with Sikhona.
There's a daily limit of R25,000 for sending money via the Sikhona route and you can send a maximum of R25,000 per month in this way.
Important: If your recipient doesn't have a South African passport and you're sending between R5,000 and R25,000, Sikhona will contact them to obtain a South African ID number before they can transfer the money. This includes people sending money to themselves.
Recipients without a South African ID number or passport can only receive up to R5,000 per day via Sikhona. Please do not attempt to send money to a recipient without the required documents as we'll be unable to complete your transfer.
Need to send larger amounts?
There's no need to worry if you're used to sending more than this with Xe. We can still provide you the same service you know and love.
Our generous daily limits for how much you can send in a single transfer online via our traditional routes still apply. Please find details of our standard Xe daily limits here.
If you're sending more than R25,000 per day, your transfer will automatically be routed via our other routes. You don't need to do anything.
Please note: Your bank or card provider may have their own limits and the Sikhona service is not used for business transfers.
How recipients complete the South African Reserve Bank check
We know you want to get your money moving as quickly as possible. Completing the regulatory checks is simple and won't take long.
The recipient will be contacted by Sikhona via email and will need to click on the Get Your Money button in that email.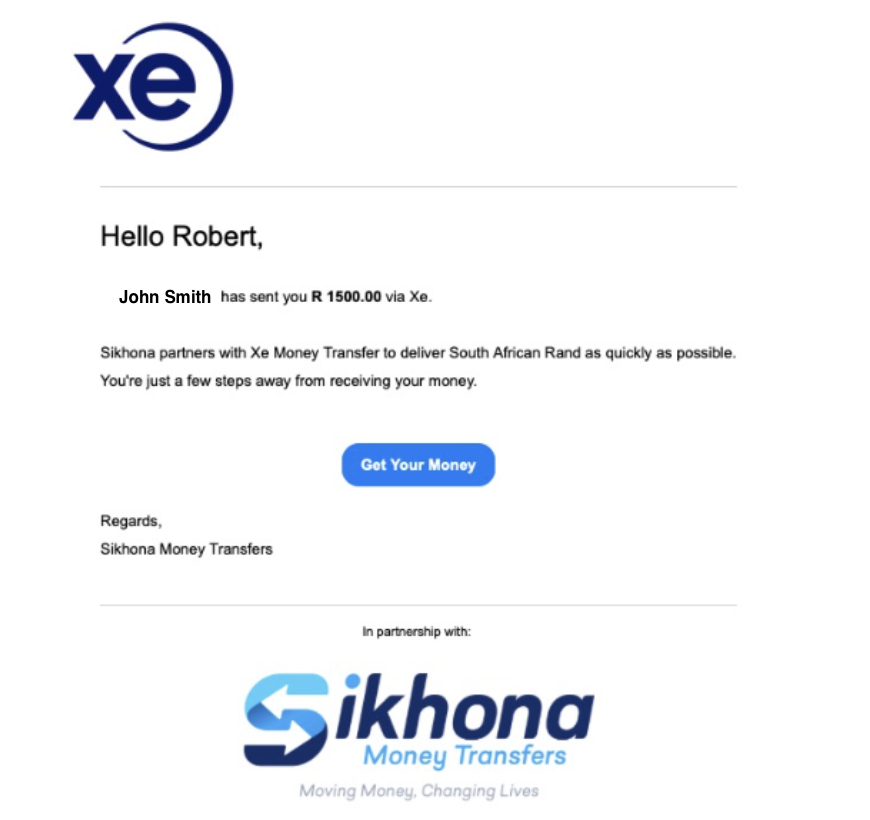 They'll be asked if they've received money from Xe before and if they have a South African mobile number.
Don't worry if the recipient doesn't have a South African mobile number, they can still complete the checks and will just be taken via a different route.
They'll be asked for some personal details and to supply a picture of their passport photo page as well as a selfie alongside it.
Your recipient will receive further communication from Sikhona once the check has been completed.
Do I need to complete the check if I'm sending money to myself?
All recipients will need to complete South African Reserve Bank reporting requirements before they can receive ZAR from abroad.
If you're sending money to yourself, the same rule applies, and you'll be contacted by Sikohna Money Transfer to complete this check.
You'll only need to complete this check once.
Where can I send from? 
You can send money from any of our supported locations, as long as it is from a bank account in your name and matches your business purpose.
For example, If you hold a personal Xe account, you should only book personal transfers on here.
The funds must be settled from your personal bank account which is in the same name as your account with us.
The same applies to business transfers.
How long will it take? 
It takes between 0 - 3 days for your money to reach Xe, depending on how you pay for your transfer. Once we receive your funds we make payment to your recipient.
Most transfers will arrive on the same day, but occasionally some recipient banks can take 1 - 4 days to deposit the money in your recipient's account.
We will send you a notification at each stage of your transfer so you know where your funds are.
Which currencies can I send to this country?
ZAR mainly, but we offer multiple currencies as long as the recipient holds a bank account for the currency being sent.
Which payment methods can I use?
You can view our current payment methods page by clicking here.
What information do I need about my recipient?
Information may vary, depending on where you're sending to. If sending to South Africa, we will require:
Recipient's name, email and address
Recipient's contact number
Recipient's account number
Recipient's BIC/Swift, and
Recipient's bank name and address
This will be the same for a recipient which is a business.
What does a South African account number look like?
Bank account numbers are usually found on bank statements or invoices. South African bank account numbers are between 7 and 11digits long.
What is a national clearing code (NCC)?
These codes are used in South Africa to identify specific bank accounts instead of the IBAN system. These are also often known as routing codes.
What does a South African BIC/SWIFT code look like?
These numbers, which identify banks globally, tend to be between 8-11 characters long. They contain a country code and typically reference the bank's name. The letters ZA are used for banks in South Africa.