Mistakes happen. We understand that sometimes you can get a digit or a letter wrong and then will need to make a change to your transfer.
There are several points at which you might notice this error - the actions available to you from that point can vary, depending on what stage the transaction is at.
Please note: No matter which stage you've noticed an error at, it is vital you do not book another transfer. This will be entering into another contract and you'll have to pay for both transfers.
In this article, we'll cover:
During the transfer process
If your cash pickup or bank transfer is not yet confirmed, you can make changes by simply editing your details.
Navigate through the process using the back button to find your way to the details field you need to amend - such as entering a different bank account.
From here, you can make the change and progress through the remainder of the the transfer.
Learn how to add, edit and delete recipients in your Xe account.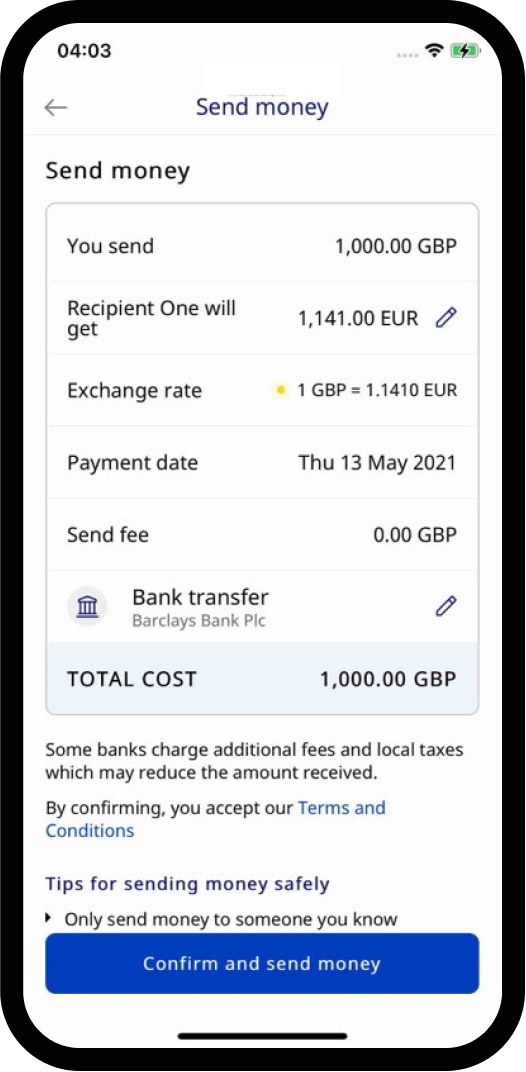 At the review stage
Before you confirm your bank or cash pickup transfer, you'll be asked to review the details. While it's tempting to skip this page, we urge you to ensure that all your details are correct before confirming.
If you're using the mobile app, you'll have the option here to edit your selected currency and payment method by clicking on either of the pencil tools. If you've spotted another error on this page, you can use the back arrow at the top-left of the screen to find the details you need to amend.
On the website, you can go back a step by clicking the arrow in the top left-hand corner of the screen. Go back at the bottom-left side of the screen.
Any errors spotted after this stage are more difficult to amend.


After confirming the transfer
First, identify whether you've chosen to deliver by bank transfer or cash pickup.
Bank Transfer
If you've already confirmed a money transfer and you need to change your recipient's details, you must contact us to do that.
The sooner you can do this, the better. Please contact using the options below.
Please note: We may not be able to make any edits once your money has been sent, so please ensure your details are correct before confirming the transaction.

Cash Pickup
It's possible to amend the recipient details for your cash pickup transfer once you've confirmed the order. Please don't place another order as this just duplicates your existing transaction.
To make a change to your cash pickup transfer in the Xe app:
Simply open the Xe app and go to

Track.

From here, click on the transfer you want to edit. You'll be taken to a page that shows the progress of the transfer.

Select Edit your transfer at the bottom of the page.
A pop-up message will appear, click Change recipient details
This should then send you to a recipient details page where you can update the information and click Save.
To make a change to your cash pickup transfer on the Xe website:
In your Xe account, click on the Activity screen.
Choose the transfer you want to modify and click Details.
Click Modify transfer.
Save your changes.
We may be able to confirm your changes straight away, or we might need a bit more time. If we do need more time, you'll see a message in your Timeline explaining when we'll be in touch with an update.